This week we ventured further into Lauderdale County to check out some cool shops, eateries and meet some even cooler people!
Our first stop was right off County Road 47, a charming little spot called The Mercantile Picker! The Mercantile Picker is owned by Pattie Bryan. She was there to welcome us in and tell us some very interesting stories about some of her pieces in her shop!
You never really know what you're going to find here from antique doors and refinished furniture to learning Barbie has a real last name– which is Roberts, by the way and Ken's last name is Carson, in case you were wondering that too!
Pattie used to manage a cafeteria in Tennessee before coming to open the Mercantile Picker. She opened the store in May of 2014. Pattie passed the building frequently where her shop is now located. She had always thought about opening a shop there. Fast forward many years later, and she is still there!
The Mercantile Picker has some very interesting things to see and purchase, one of our favorites was a handmade wedding gown from the 60's! We'd like to think that this gown is what inspired Pattie to add vintage weddings to her resume. Yep, you read that right! Vintage Weddings through the Mercantile Picker! Pattie showed us some photos from her past weddings and they really do give a unique spin on a wedding ceremony or reception!
After we finished exploring the Mercantile Picker, we worked up quite the appetite. Conveniently, the St. Florian Pharmacy is located within walking distance (or a 30 second drive)! Upon arrival to the Pharmacy, the façade is absolutely beautiful. The green and white striped awnings suck you in and plant you right the era when soda shops and pharmacies were the hot hangout spots!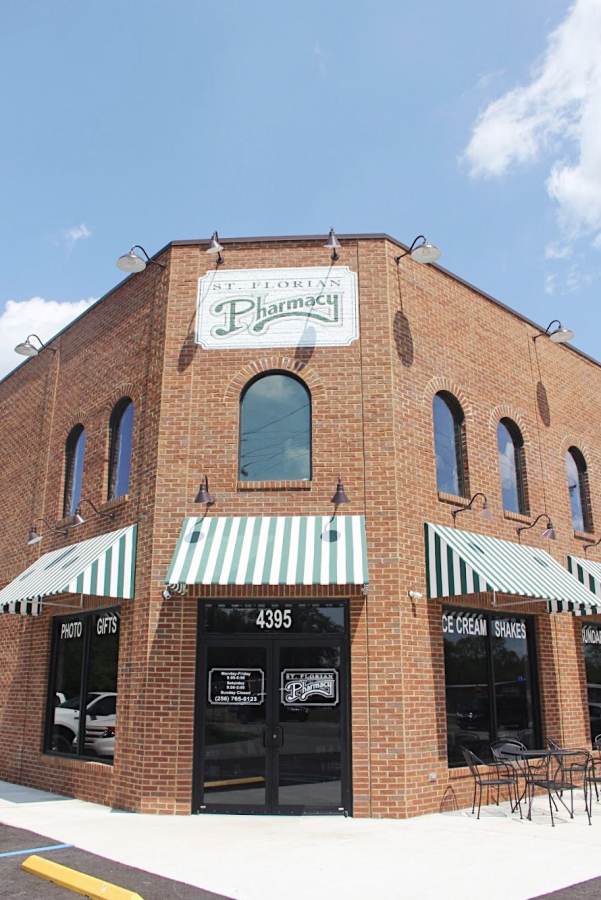 We did things a little differently for lunch and actually ate our dessert first. When the Blue Bell Ice Cream logo is staring back at you, you just can't say no.
So, we will continue on with your sweet options first and hit back on the entrees after. As we mentioned, they carry Blue Bell Ice Cream in several different flavors! You can choose from a cup or sugar cone and 1-3 scoops, one topping is free, but extras do cost $0.50! They also serve up waffle cones, milkshakes, malts, sundaes (hot fudge, hot caramel or hot butterscotch) and banana splits!
If you're looking for more than just ice cream to pep you up, they've got coffee brewing as well. Fountain drinks, tea, lemonade, milk and chocolate milk also line the menu of choices!
Now on to the sandwiches and sides on the menu! We went with the hot turkey sandwich on wheat which definitely did not disappoint, but there are several choices on the menu! Trust us when we say these sandwiches will leave you pretty full! We could only finish half!
Aside from the turkey sandwich, the pharmacy offers a grilled cheese, hot dog, pimento cheese sandwich, chicken salad sandwich, tuna salad sandwich, hot ham and cheese, pastrami on rye and a Reuben! They keep it pretty simple on the sides which include chips, Greek pasta salad and pimento with crackers!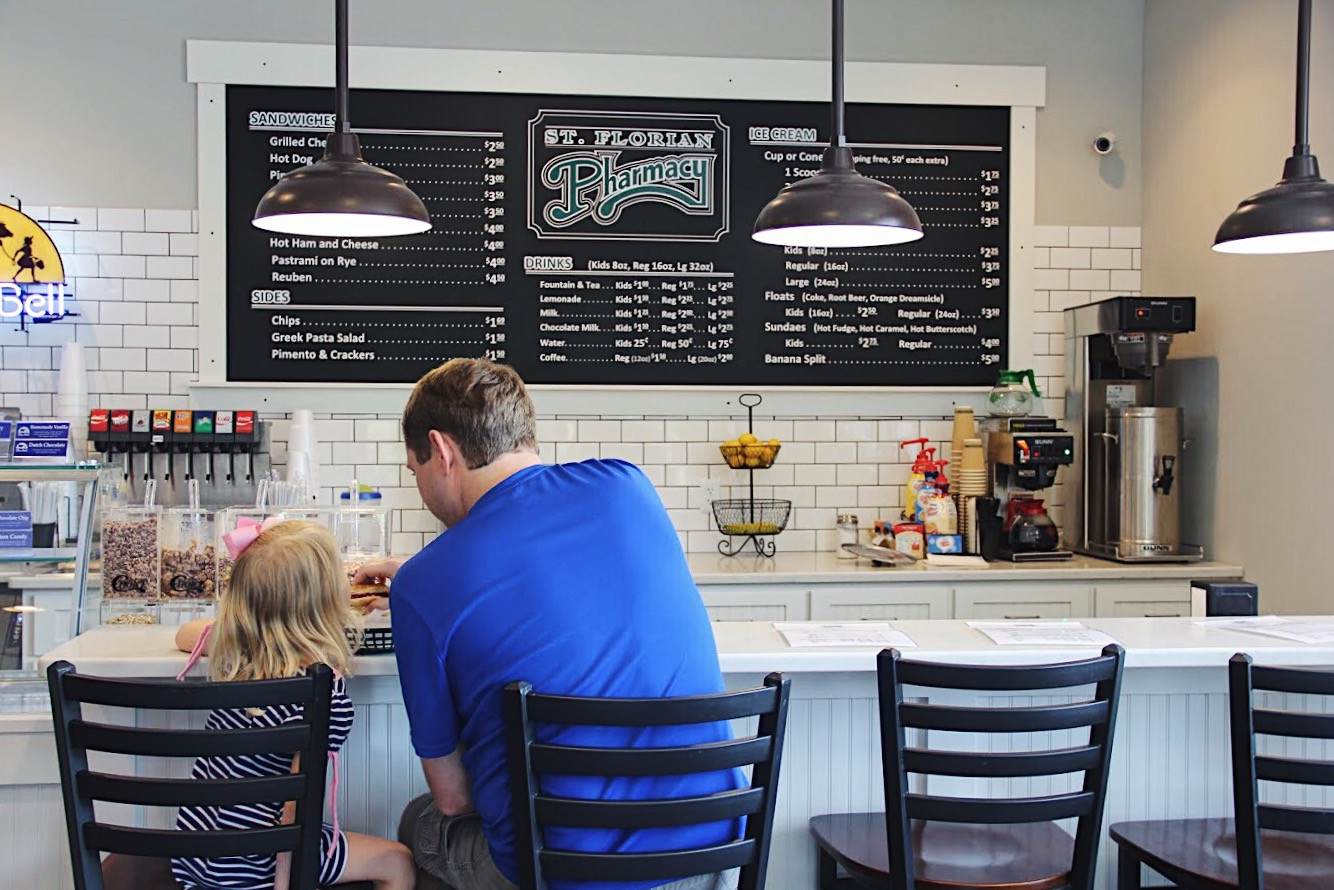 They say their chicken salad and pastrami on rye are two of their best sellers. We'll be back to try those as well!
If you're ever in St. Florian and haven't stopped to check these two places out, please stop and let them know we sent you!
We also want to hear from you! What did you enjoy on the menu and where would you like to see us Field Trippin' to next? Let us know!